PC Commander 4.0, our free tool that helps you manage your remote computers, is now available for download. This convenient software allows you to control your PC entirely from your web browser. Google Chrome, Mozilla Firefox, Internet Explorer and even Microsoft's new Edge browser are all supported.
Here are a few things you can do with PC Commander:
Securely access your PC
Type in the URL and specify your software-configured password to login to your computer. Note that you can setup PC Commander to use HTTPS to ensure that all communications are encrypted.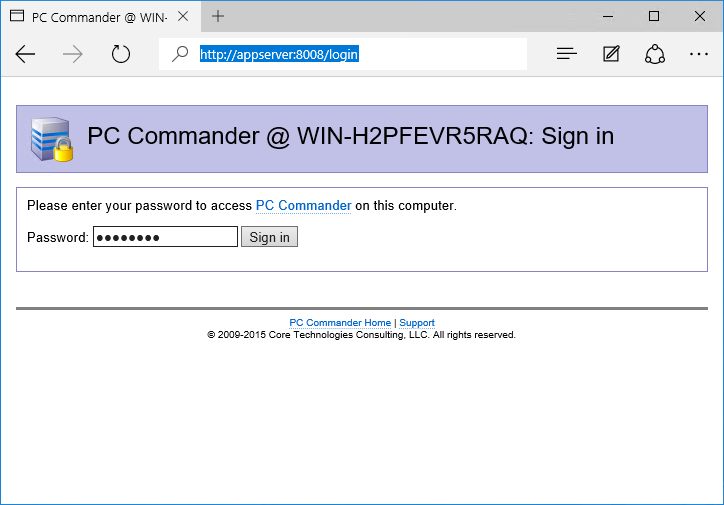 Understand what is running, restart your PC and more
After you login, the System page will present a general overview of what is running on (and how many user are logged on to) your computer. From there you can even restart your server — a very convenient feature if the PC is hung or cannot respond to an interactive login!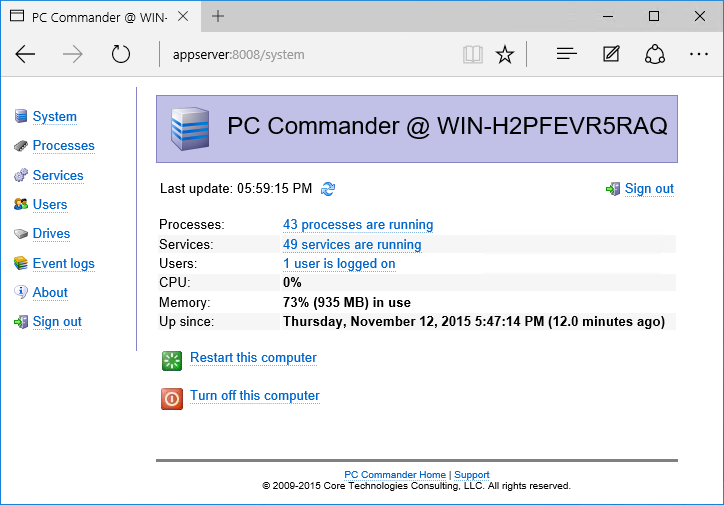 Manage all processes
The Processes page lists everything running on your computer. Easily see who started each process and how much CPU and memory is being consumed by each one. Click on a column's title to sort the table by that column — very useful when looking for memory or CPU "hogs"!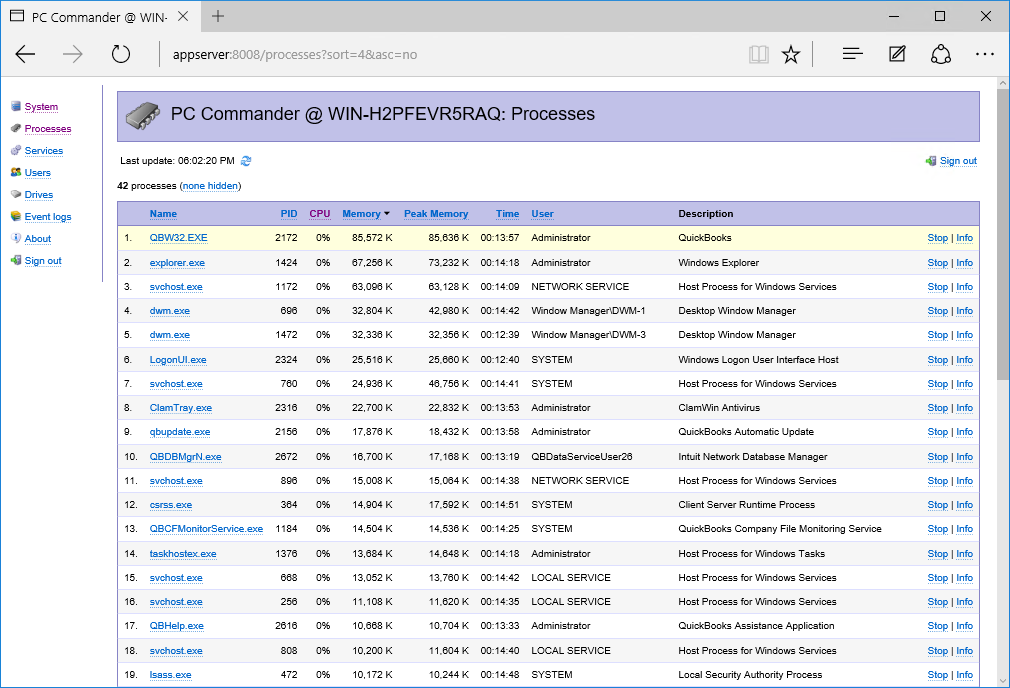 Stop or modify any process
From the table of processes, click a name to "drill down" into a single process. From there you can stop the process or change its priority to give it more or less resources on the computer. You can also quickly find some information about the process at ProcessLibrary.com if you don't recognize it…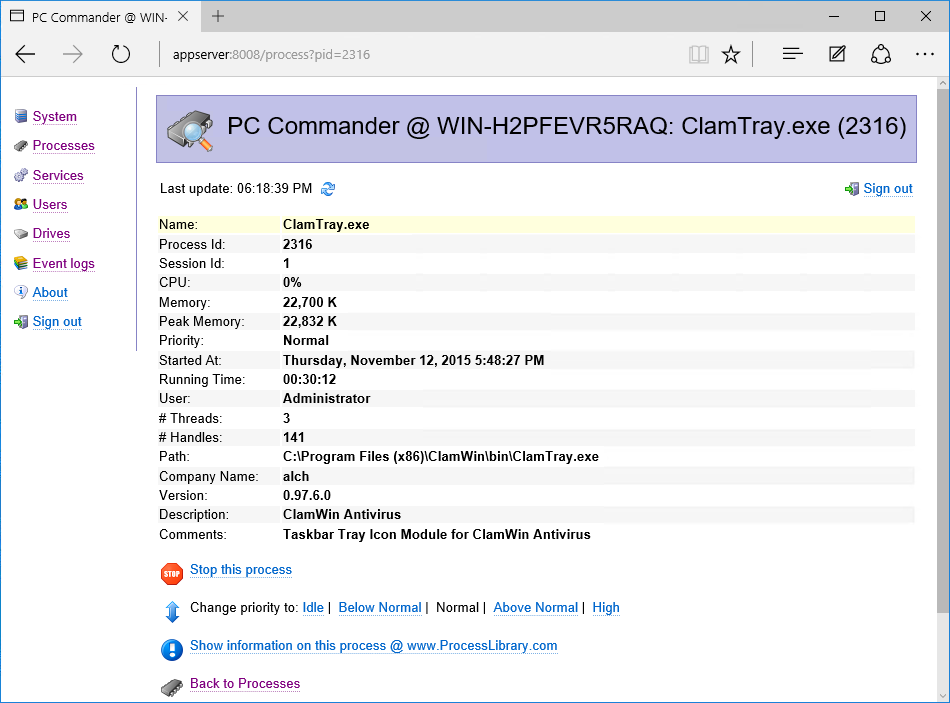 Manage all Windows Services
Go to the Services page to see all windows services installed on your PC. The table shows which services are running (via the green circle on the left), how services are started and the user account that runs each service. Columns are sortable for your convenience and you can easily start, stop or restart any service directly from the table.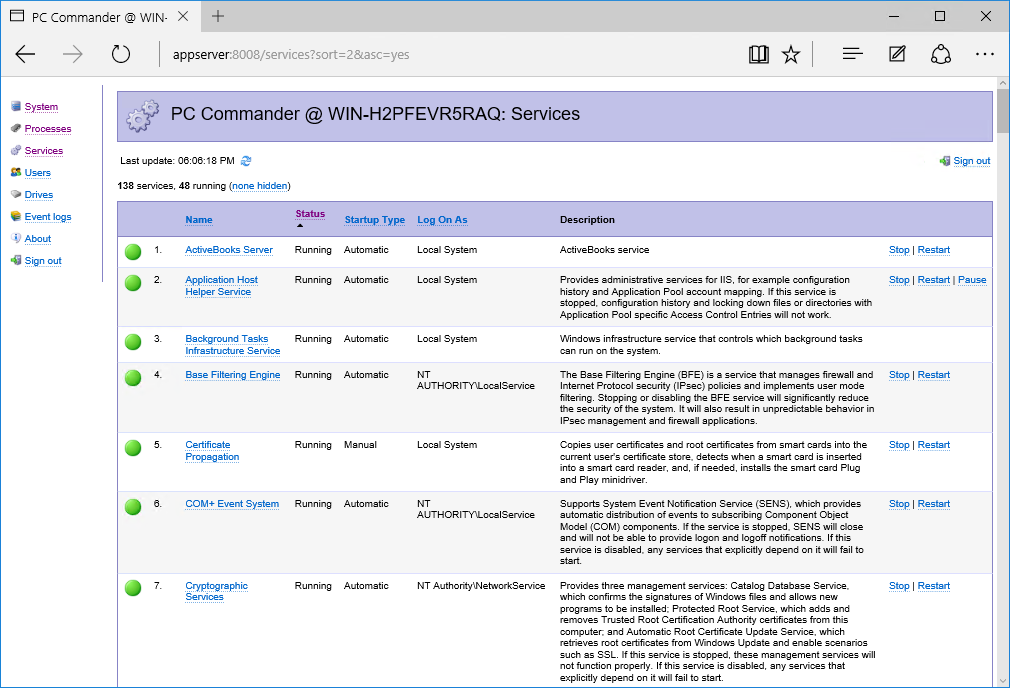 Start, stop or restart any Windows Service
Click into a specific service to see additional details about it. The full command line used to launch the service is shown, and all dependent services are identified. You can easily start, stop or restart your service from this page.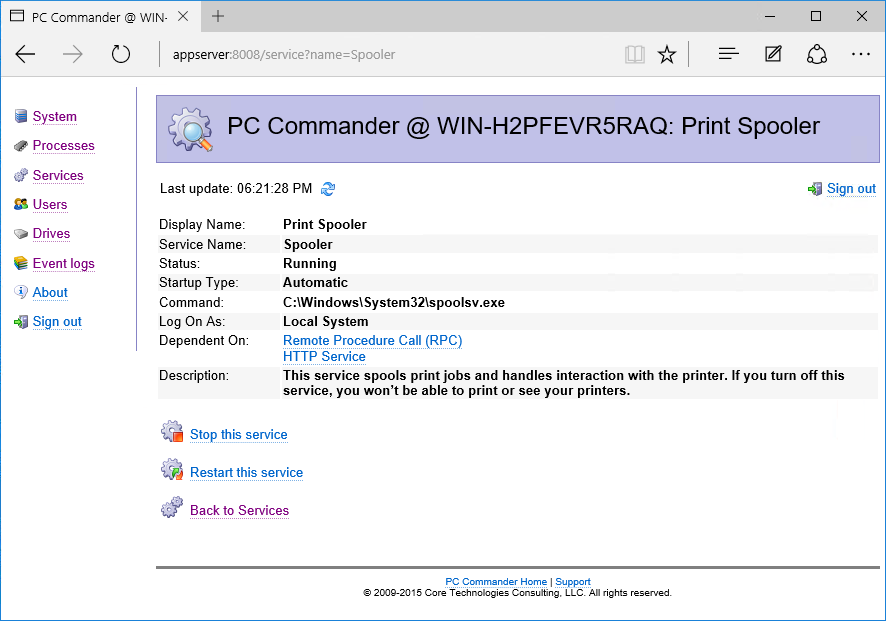 View all users logged in
The Users page lists all users currently logged on to the computer. With a couple of clicks, you can quickly disconnect an account to allow another user to log on.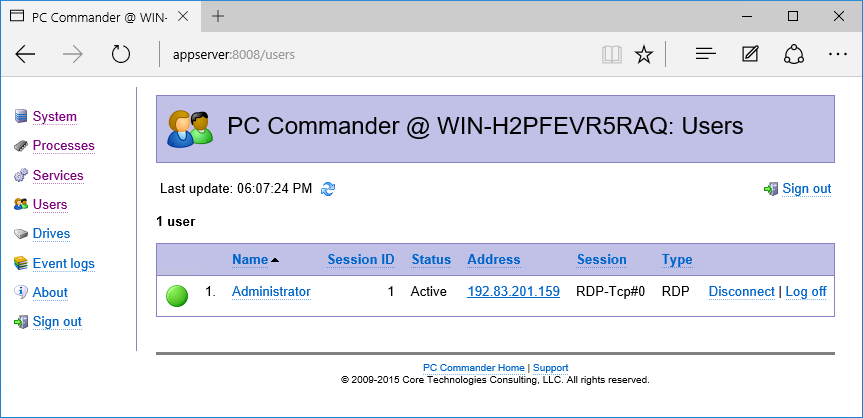 Log off, disconnect or send a message to a user
Drill down into a specific user entry to see additional options. Send a message directly to a user's screen to notify him that you are about to log him off!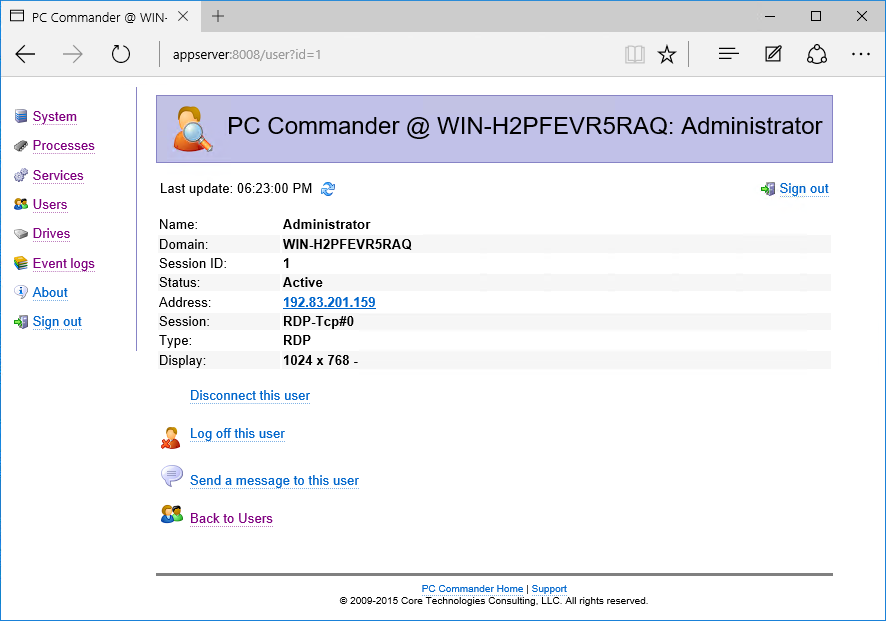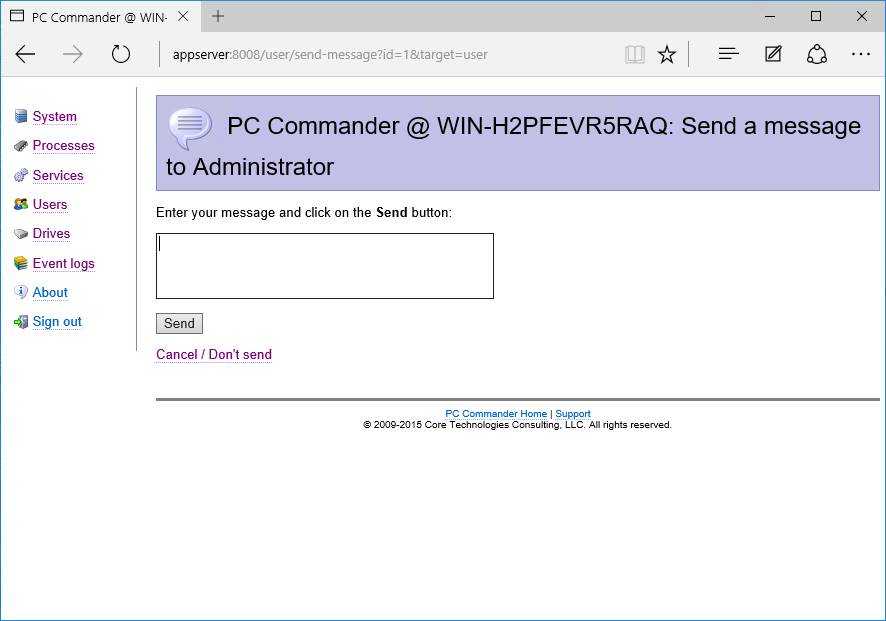 Browse your hard drive and view/download any file
Open the Drives page to list all storage devices attached to your computer. Navigate to any folder and view or download any file you like! And you can see detailed information on a file by clicking on its name.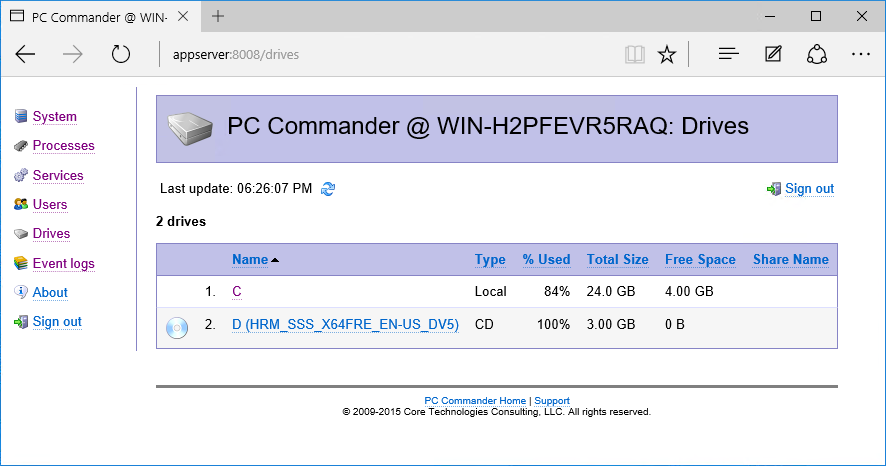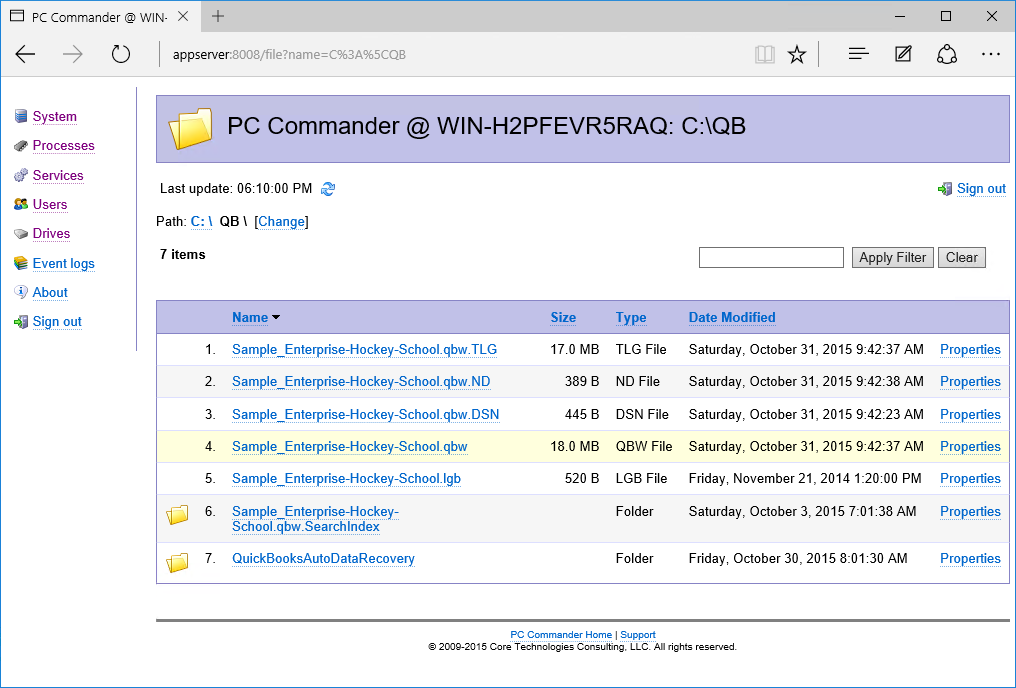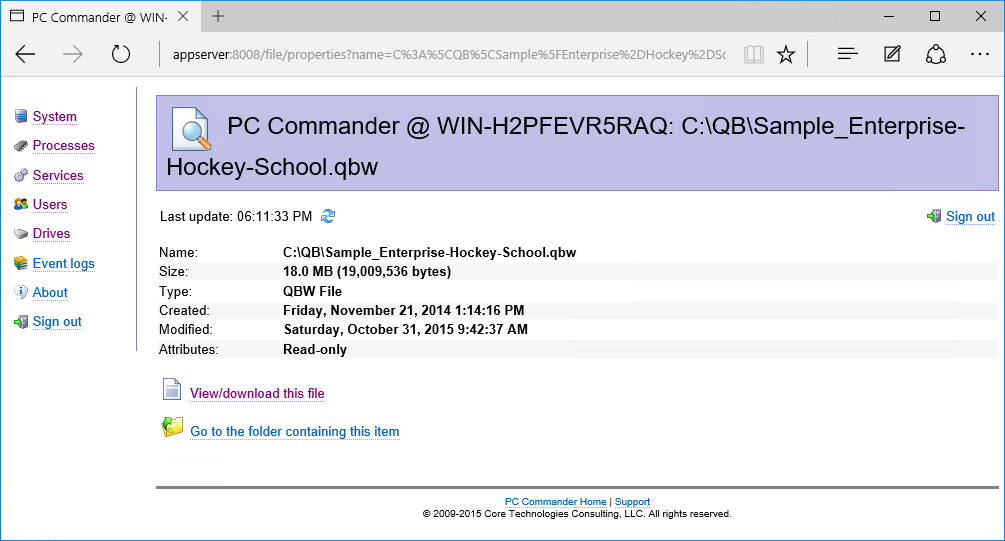 View the Windows Event Logs
The Event logs page comes in handy when you want to investigate system errors or see what your windows services are up to. Click on a log to review its detailed records in a friendly tabular format.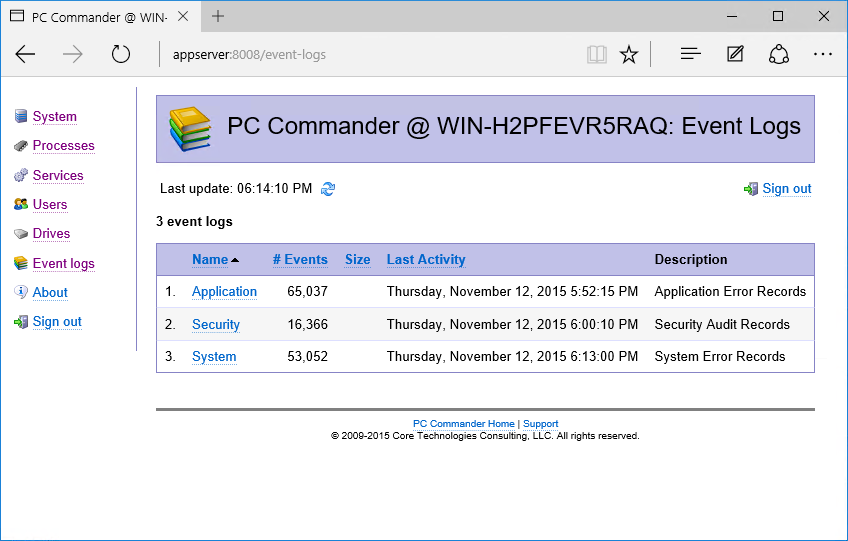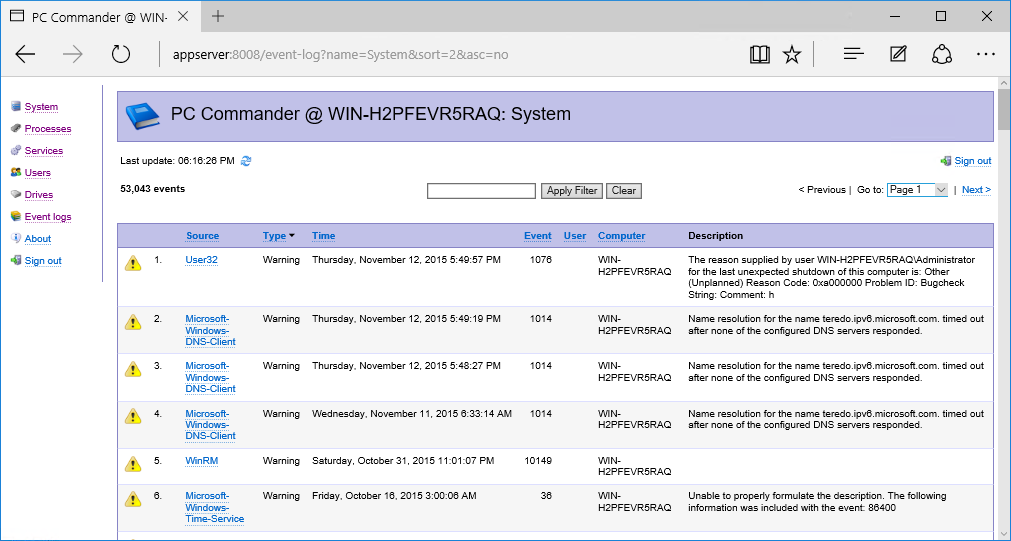 And that's it! We hope that you will find this free software useful when managing your computers. Please be sure to get in touch if you have ideas on how we can make PC Commander even better for you.