Last month, we wrote about Microsoft's new Windows Admin Center (WAC). Our focus was on using WAC to manage your windows services:
But as the links in the left panel suggest, WAC can do much more than start, stop and edit services. Indeed, WAC is powerful tool — very similar to our free, PC Commander utility: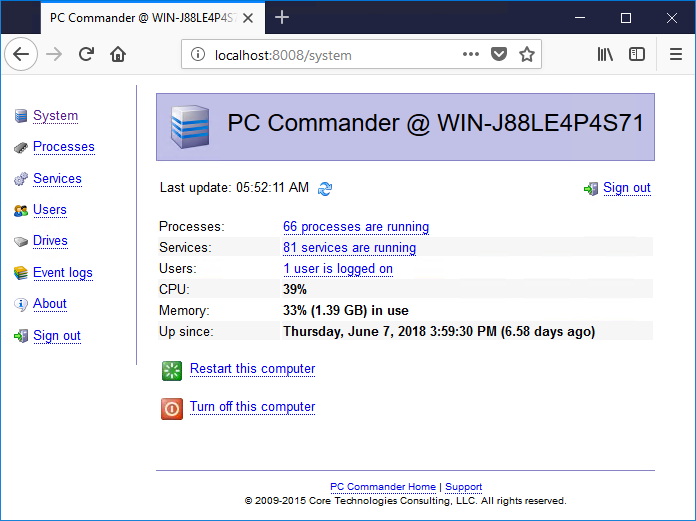 How does Windows Admin Center compare to PC Commander?
Both products allow you to manage key aspects of a computer through your web browser, including:
And you can easily reboot your computer remotely with either one as well.
But there are a few key differences:
PC Commander works on any version of Windows while WAC can only be installed on Windows 10 build 1709 and later

At this point, PC Commander is much easier to install. (We ran into several problems setting up WAC on our Windows 10 computer.)

WAC supports multiple languages; PC Commander is English-only.

With WAC, you can work with certificates, devices, firewall and registry settings. Those areas are not available in PC Commander.

PC Commander seems considerably faster than Windows Admin Center. For example, on our dual-processor Windows 10 machine, it took WAC 16 seconds to display the list of processes. PC Commander completed the same operation in less than 3 seconds.

You can browse the contents of your hard drives with PC Commander. Easily to view or download files.

With WAC, you can see information about disks, volumes and file shares.

WAC allows you to manage user accounts. For example, you can edit, delete, change group membership.

PC Commander shows you who is logged on and allows you to log them off.
Our conclusion: Windows Admin Center is a more complete remote management tool, with huge potential if Microsoft and partners continue to invest in improvements. But if you want no-hassle setup and speedy operation — today — PC commander is likely the better choice.
Enjoy!