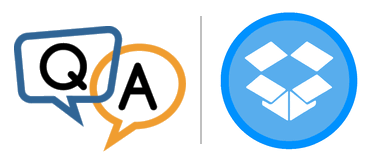 I'm testing your
AlwaysUp with Dropbox
. So far everything works great except for one case. When I delete a file from Dropbox.com online, it's not removed from my hard drive. The file just stays in the local folder.
I'm a bit confused because new files I add on the computer show up online quickly (and vice versa). It's only deleting that's not working.
Have you ever seen this before?
— Wendy McIntosh
Hi Wendy. Thanks for trying AlwaysUp!
Yes, I think we have seen that before. It's very likely that Dropbox is stuck trying to get your attention.
Dropbox is probably waiting for input from you
Obviously, Dropbox is a regular Windows desktop application. As such, it expects to be able to interact with you as it copies your files to and from the cloud.
And you've probably encountered one or more desktop notifications as Dropbox moves files around. For example, this informative alert appeared after we uploaded one of our favorite recipes to the cloud: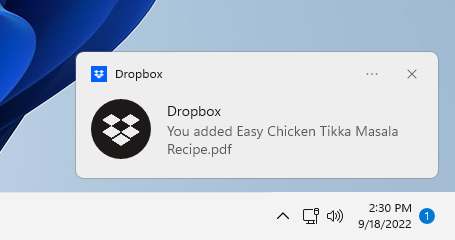 Notifications like those can be helpful, but you may not see them when Dropbox is running with AlwaysUp. In fact, you won't even see the Dropbox tray icon or any windows from Dropbox on your desktop. That's because Dropbox is working "invisibly" in the background — on the isolated Session 0 desktop where all Windows Services operate.
In any case, your inability to see simple notifications like the one above shouldn't pose any problems. That's because Dropbox will automatically create and destroy those alerts without you ever setting eyes on them. And even though you may be less informed, Dropbox will continue to synchronize your files as expected.
However, the story is different for prompts that need you to take action before proceeding. They patiently wait for you to do something, even though you have no idea that they exist!
Unfortunately Dropbox may show one of those prompts when you remove a file online. And that may be holding up the action. Let's see if that's the case.
Start Dropbox normally and look for a "Delete file" prompt
To check if Dropbox is trying to get your attention:
Stop Dropbox in AlwaysUp

Start Dropbox normally, without AlwaysUp.
Dropbox should now be running on your desktop.
Do you see this prompt on your screen?

As the window says, Dropbox is confirming that the file you removed online should be deleted from all devices. And, most importantly, Dropbox will not remove the file from your PC until you click the "Delete everywhere" button. It's stuck, waiting for your approval.
Be sure to check the "Don't ask me this again" option
As you can expect, dismissing the window will allow Dropbox to proceed and remove your file.
But before you dismiss the window, please check the Don't ask me this again box:

Checking that box will ensure that you're never interrupted by that window again. And that's exactly what you want/need as Dropbox runs invisibly in the background with AlwaysUp.
Spot any other problems?
And while you're here, please have a look around. Is Dropbox reporting any warnings or failures? Click its tray icon to find out.
If you do notice a problem, please do your best to resolve it before returning to AlwaysUp. As you can imagine, if Dropbox doesn't work on its own, it won't magically work under AlwaysUp either.
Best of luck!