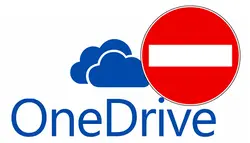 This week, several AlwaysUp customers reported that OneDrive suddenly stopped copying their files. It seems that the trouble began after OneDrive automatically updated itself to version 23.048.0305.0002, which Microsoft started pushing to everyone on March 21st.
Needless to say, we're actively investigating. Here's what we've learned so far:
For some customers, OneDrive fails to synchronize any files when AlwaysUp runs it in the background in Session 0. The OneDrive executable actually starts normally and keeps running — it just doesn't do its job.

Not all customers are impacted. Many AlwaysUp installations continue to sync files happily, with the latest version of OneDrive starting at boot in Session 0.

OneDrive is completely fine when it's started in the interactive session from AlwaysUp — by selecting "Start OneDrive in this session" from the "Application" menu. The fault only appears in Session 0.
Temporary solutions
Until we get to the bottom of the problem, please run OneDrive normally on the desktop. Of course, you will have to stay logged in to your computer (which we know is less than ideal).
Another option is to roll back to a previous version of OneDrive that works in Session 0. You can download old versions from the release notes page. If you go that route, you will probably have to uninstall your current OneDrive before installing the old version. Also, you will need to disable automatic updates or else OneDrive will soon reinstall the faulty version.
Trouble running OneDrive with AlwaysUp?
If you're suddenly having problems running OneDrive with AlwaysUp, be sure to get in touch. Please let us know:
The version of Windows your computer's running

The version of OneDrive installed (click the OneDrive tray icon; select the gear in the upper left; choose "Settings"; go to the "About" tab)

When you think your problems started
We'll review your situation and do our best to help.
Hopefully Microsoft will soon fix the problem that surfaced in OneDrive version 23.048.0305.0002. In any case, we'll keep pushing for our own solution too. Fingers crossed!
---
March 25 2023: Update
The problem seems to occur on Windows Server 2019 and 2022. All the reports we've received have been from customers running those operating systems. However, some customers running 2019 and 2022 are fine! Perhaps it's related to recent Windows updates?

In any case, if you're seeing the problem on Windows 10 or 11, please let us know.

We've confirmed that the issue is not unique to AlwaysUp — it's a problem running OneDrive in the context of a Windows Service in Session 0.

Indeed, we tried many similar tools (including Microsoft's PsExec) and none were able to launch OneDrive in the background. Most times OneDrive quickly crashed with a strange exception hinting that user interface elements may be involved in the drama:

Faulting application name: OneDrive.exe, version: 23.48.305.2, time stamp: 0x454d6e69
Faulting module name: Windows.UI.Xaml.dll, version: 10.0.22621.1344, time stamp: 0x95ad35df
Exception code: 0xc000027b
Fault offset: 0x00000000008704e0
Faulting process id: 0x0x23D0
Faulting application start time: 0x0x1D95F784F0ABAC4
Faulting application path: C:\Program Files\Microsoft OneDrive\OneDrive.exe
Faulting module path: C:\Windows\System32\Windows.UI.Xaml.dll
Report Id: a47c6cb6-66fc-4244-81b5-94df6437460c
Faulting package full name:
Faulting package-relative application ID:

Since the trouble is in Session 0, one solution is to setup automatic logon and have AlwaysUp launch OneDrive in the auto-logon session. That way OneDrive will start automatically after a reboot.

The autologon approach is described here in our FAQ. Again, it's less than ideal to have a user logged on but it may be OK for a while. Note that you can lock the screen automatically after login if that helps.

Special thanks to Perry Nelson for providing us with a Server 2022 machine that exhibits the issue. That has been super helpful as we've still not been able to reproduce the failure on our 2019 and 2022 test servers.
---
April 2 2023: Update
Unfortunately the latest pre-release version of OneDrive (23.066.0326.0005, released on April 1) still fails to copy files when run in Session 0. With an abundance of optimism, we'll continue to test Insider builds as they become available. The best fix will come from the OneDrive developers themselves.

So far we've only had one report of trouble on Windows 11 — but that turned out to be a false alarm. All other reports have been on Windows Server.

Curiously, our Windows Server 2019 and 2022 machines (with all required & recommended patches applied) continue to work flawlessly. We have no idea why.

We've asked for help on Microsoft's OneDrive forum. Hopefully some kind and knowledgeable soul will provide insight soon.

Do you have a support contract with Microsoft? If so, can you please try to get them to look into what changed in OneDrive? Perhaps they will move quickly for a paying customer.
---
April 12 2023: Update
We've heard from several customers that the latest Insider/pre-release builds of OneDrive work properly in Session 0. Most folks reported success after version 23.071.0402.0001, which was released on April 7.

Indeed, our team was able to confirm OneDrive version 23.073.0404.0001 (April 10) working in Session 0 "with our own eyes". Thanks again to Perry Nelson for his generosity in making a system available for testing.

Unfortunately we have no idea how long it will take for Microsoft to move the fix through the delivery pipeline and into a production release. Until then, we recommend that you manually install OneDrive version 23.073.0404.0001 or later.
Thanks to everyone for their patience and support throughout this drama! Apparently our little solution to the real-world problem of running OneDrive unattended lives to fight another day. 🙂