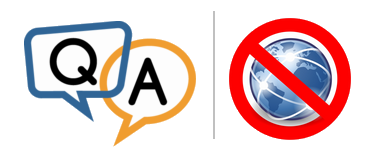 My company is interested in your
AlwaysUp software
. We would like to implement it in computers which are not connected to the Internet. These computers can't be connected to the Internet, not even for a few minutes.
Is it possible to activate the license without the Internet?
— Florian
Hi Florian.
The machine running AlwaysUp does not need to be connected to the Internet to register the software. Your situation is perfectly fine, and we have many customers running AlwaysUp on isolated computers.
However you will need to access the Internet from another machine, to complete the online registration process. Here is an overview of the procedure.
How to activate AlwaysUp on your offline computer
To register your installation of AlwaysUp, you will:
And once registered, AlwaysUp will not use the Internet — unless you have configured email alerts, or you manually invoke the "check for updates" functionality.
Hope this makes sense! Please get in touch if you have any other questions.