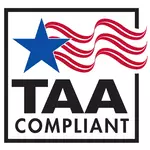 What is the TAA?
TAA refers to the Trade Agreements Act (19 U.S.C. & 2501-2582), which was enacted by the U.S. government in 1979 to foster fair and open international trade.
The TAA requires that the U.S. Government acquire "U.S. made" products — ones that are produced or undergo a "substantial transformation" within the United States or a designated country.
TAA compliance make it possible for U.S. government agencies and educational institutions to do business with USA-based companies like Core Technologies Consulting. Federal procurement contracts that require TAA compliance include GSA (General Services Administration) Schedule contracts, IDIQ (Indefinite Delivery, Indefinite Quantity) contracts, and most DoD (Department of Defense) contracts.
AlwaysUp, Service Protector and all our software comply with the TAA
Core Technologies Consulting's software solutions are designed, implemented and supported entirely in the United States. As such, our software meets and exceeds the TAA standards outlined above.
Please contact us if you have questions about TAA compliance
If you need more information about TAA compliance, please get in touch. We'll be happy to provide an official, signed statement suitable for government agencies.