What's the problem with Dropbox?
As we wrote about last week, Dropbox version 81.4.195 often fails to run as a background Windows Service. The telltale sign that Dropbox is in trouble is this wordy alert, which appears in Session 0: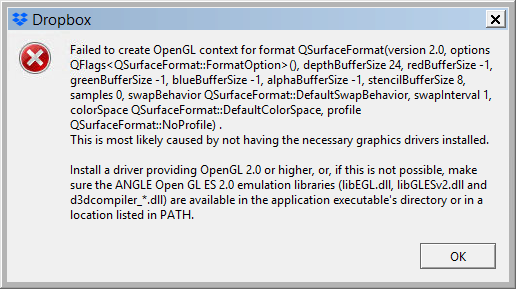 Dropbox stops dead in its tracks — without synchronizing a single file!
So how do I fix it?
Follow these steps to fix the problem:
Afterwards, restart Dropbox as a service. The OpenGL prompt should be gone — a relic of an unpleasant past.
Huge thanks go to Dropbox forum user Wilson7777, who alerted the community of this remedy. His original solution is here.
Why does the fix work?
The explanation is a bit technical, but here goes…
Dropbox uses Qt — a popular cross-platform development framework.
In turn, Qt requires OpenGL — a cross-platform API for rendering 2D and 3D vector graphics.
So when you run Dropbox, both Qt and OpenGL will be started.
But for some unknown reason, when Dropbox is started as a Windows Service in Session 0, Qt and OpenGL fail to initialize. That failure causes Dropbox to throw up the "Failed to create OpenGL context for format QSurfaceFormat" error, which suggests that there is a problem with the computer's graphics card/hardware.
Fortunately there is a way to instruct Qt: "Instead of using the computer's graphics hardware for OpenGL, use software libraries". Setting the QT_OPENGL environment variable to "software" is the way to do that.
And with the change to use software instead of hardware, Qt, OpenGL and Dropbox all start properly.
Note that when you ran the SETX command in step 2, it added the QT_OPENGL value to your environment. You can see it listed in your environment variables (available from the Control Panel):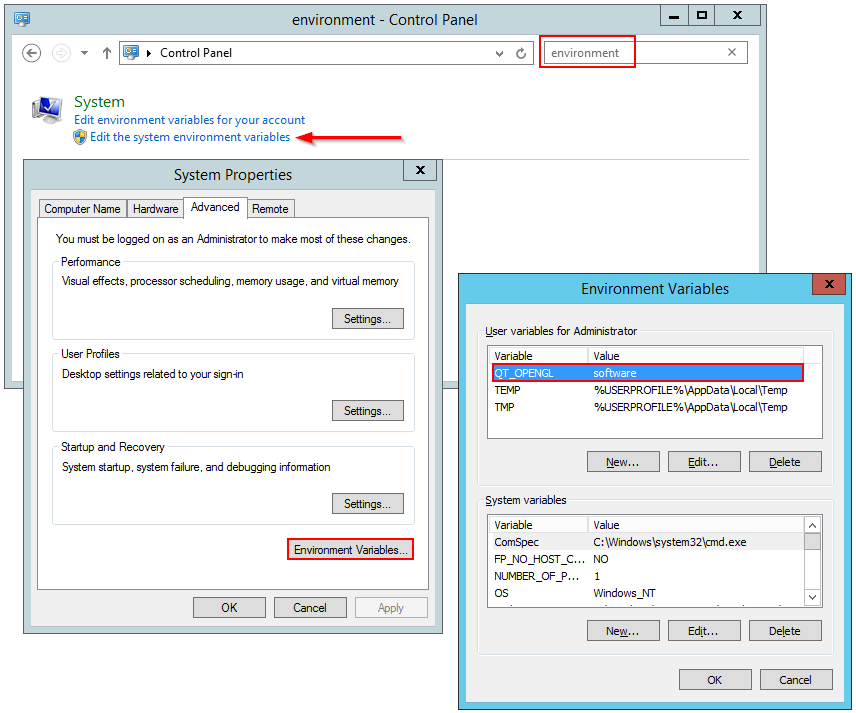 Will this fix work for future versions of Dropbox?
We certainly hope so! But like you, we're not sure what magic the next automatic update of Dropbox will bring…