If you are responsible for keeping a CPU-hogging Windows Service running all the time, then we have some great news! Service Protector, our time-saving administrative tool that helps any Windows Service achieve 100% uptime, is now able to monitor processor use across all your server's CPUs.
Previous versions of Service Protector would only monitor a single CPU/Core. This approach fit with the vast majority of today's popular windows services that run entirely on one CPU, but it was inadequate for newer, performance-hungry services designed to make use of all a server's CPUs. This release addresses that deficiency by detecting "runaway" services consuming too many cycles across all the CPUs.
How to Activate Windows Service "CPU Hog" Detection Across All Processors
To identify and automatically restart a misbehaving windows service that ties up multiple CPUs, simply check the Average over all CPUs (instead of only one) box when configuring Service Protector's Monitor tab: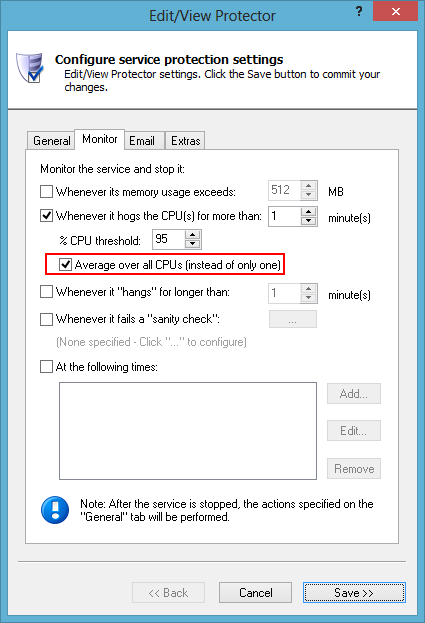 With the above setting, a service running on a 4-CPU machine that consumes over 95% of all processing power would be automatically restarted by Service Protector.
Enjoy!