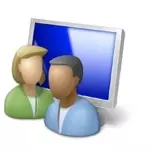 What is the User Profile Service (ProfSvc) service?
The ProfSvc Windows Service is responsible for loading and unloading user profiles — collections of settings and information associated with each Windows account. It's also an integral component of SharePoint server.
The service's display name is User Profile Service and it runs as LocalSystem inside the service host process, svchost.exe. By default, the service is set to start automatically when your computer boots: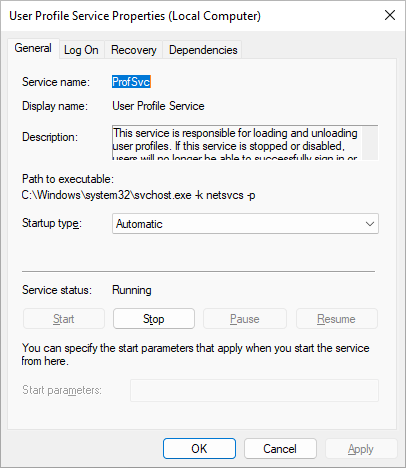 What happens if I stop ProfSvc?
The service's description cautions:

If this service is stopped or disabled, users will no longer be able to successfully sign in or sign out, apps might have problems getting to users' data, and components registered to receive profile event notifications won't receive them.
If none of that functionality seems important to you and you try to stop the service, doing so will force several dependent services to stop as well. There are three of those on our Windows 11 PC: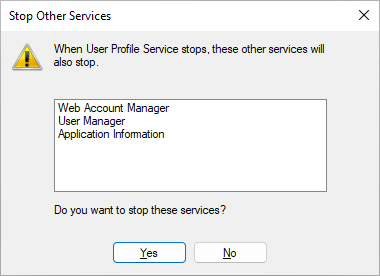 However, even after clicking "Yes" to proceed, User Profile Service failed to stop. The following error was presented: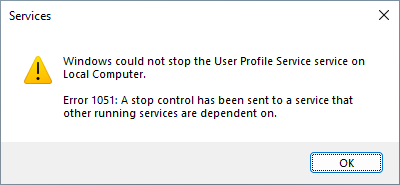 And even worse, trying to stop the service left our machine in an inconsistent state. From then on, Windows refused to start some applications (like Task Manager):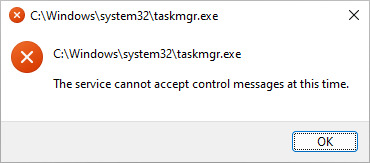 We had to reboot to restore normal operation.
Apparently the User Profile service is more important than it appears!
Is it OK to disable User Profile Service?
At the very least, disabling the service will prevent anyone from logging in to your computer.
Unless you're deliberately trying to block all access, including your own, that's probably not a good idea.
It's best to leave the service enabled and set to start automatically at boot.
Questions? Problems?
If you would like to know more about the User Profile service, or you have a specific problem, please feel free to get in touch. We will do our best to help you!