Incorporated in 2007 and driven by new opportunities in the "Internet-of-Things" (IoT) market, CartaSense offers end-to-end monitoring and alerting capabilities for cold-chain, agricultural and asset security applications. CartaSense provides complete field proven systems using wireless sensors, gateways and cloud based computing that deliver real-time information to support real-time decision making for increased efficiency and profits.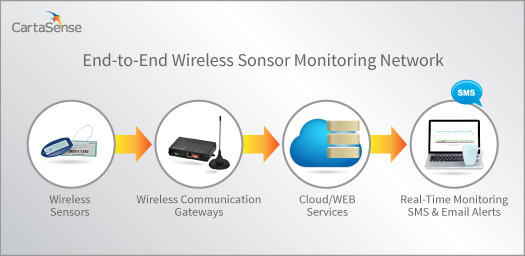 Chaim Belfer, the Vice President of R&D at CartaSense, has been using AlwaysUp with his Java programs since 2010. He currently manages more than 20 installations and was interviewed for this article.
How does CartaSense use AlwaysUp?

CartaSense deploys several Java applications that manage a world wide network of sensors. For security and management purposes, we need to run our windows installations as windows services. Looking for a solution we found AlwaysUp which solves the problem — plus helps with recovery and logging.
For the past few years, AlwaysUp has been included whenever we install our software on a Windows Server (2008 or 2012). We also recommend AlwaysUp to our own customers.
Why did you choose AlwaysUp for your Java applications?

We found your company through a Google search a few years ago. I tested several open source solutions but none of them really did the job, or at least needed a lot of development to make it work reliably. AlwaysUp worked well from the beginning (the 30-day trial) so we started out with a single license and bought more over time, as needed.
What are your favorite features of AlwaysUp?

Beyond solving the big problem of running our Java applications as windows services, AlwaysUp's GUI is very nice and self explanatory. The documentation is also good, and the software is easy to use. Prompt service and quick response to our support emails is a big plus too!