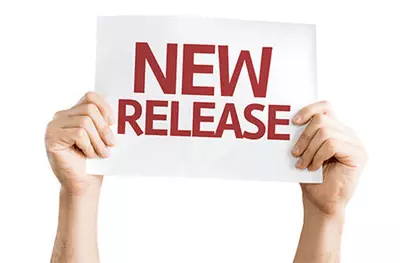 Service Protector 9.0 is now available for download. Here's what's new in this version:
Moving to another computer? Easily import protectors "in bulk" — instead of one at a time
The best way to copy (or move) a Service Protector configuration to a different computer is to:
Export the protector to an XML file from the existing installation, and then

Import the XML file to create a new protector in your new installation.
This works fine if you're protecting one or two services, but importing files one by one creates significant overhead if you have 20+ services to restore!
The new "bulk import" capability aims to reduce that overhead. With the new feature, you simply select the files you wish to import and walk through the step-by step wizard to protect the same services on your new computer.
Here's a brief overview of the new import process:
Select the files that you exported from your other installation of Service Protector.

From there, follow the self-explanatory prompts to create protectors for all the files you selected.
Note that as part of the import process, Service Protector may ask you to resolve conflicts.
For example, you may have to choose a new service if the one in the XML file is already protected: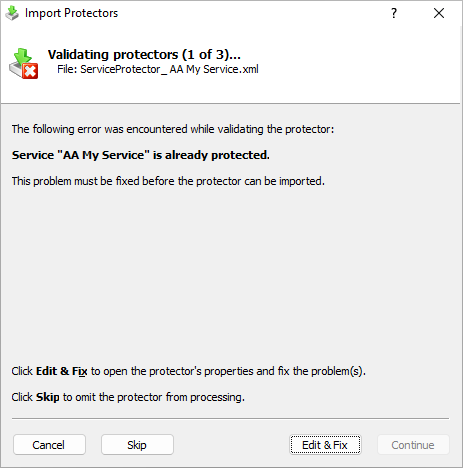 Click Edit & Fix and select a different Windows Service from the list.
Or if a protector is configured to send email but the XML file doesn't contain the password for your email account, you will be prompted to add it: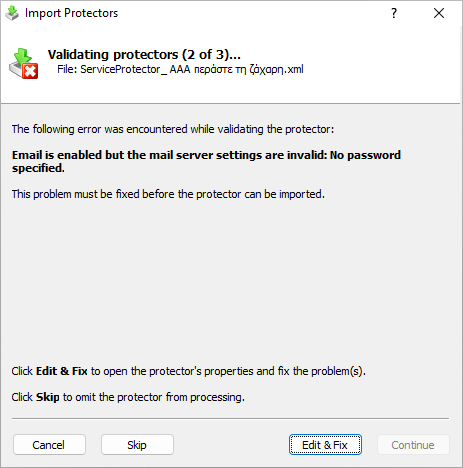 Click Edit & Fix and move to the Email tab to enter your password.
As you can see, the new feature is very easy to use. We hope that it will be a time-saver for our customers working with many Windows Services.
Other improvements
Improved the handling of non-English text throughout the application, including when sending email and reporting activity.

Service Protector will now log an entry to the Event Viewer whenever Windows starts a protector at boot. That makes it easy to identify when protection was started manually (by a person or process) versus automatically after a reboot.

To help customers who buy upgrades, we added the ability to remove the software's registration code. Doing so will return Service Protector to the unregistered state and give you the opportunity to enter a new registration code.

Fixed an issue with the registration window being "cut off" on high-resolution, 4K screens.

The "About" window now mentions the major version number licensed.
As usual, please review the release notes for the full list of features, fixes and improvements included in Service Protector version 9.0.
Upgrading to Service Protector 9.0
If you purchased Service Protector version 8 (after November 2021), you can upgrade to version 9 for free. Simply download and install over your existing installation to preserve your existing services and all settings. That way, your registration code will continue to work.
If you bought Service Protector 7 or earlier (before November 2021), you will need to upgrade to use version 9.
Please buy upgrades here — at a 50% discount.
See the complete upgrade policy for more details.
Enjoy!