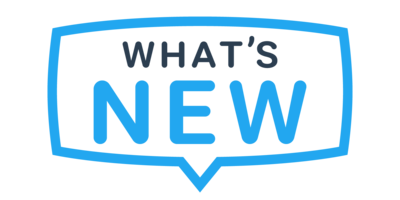 We're closing out the tumultuous 2020 with version 12.5 of AlwaysUp — our "run anything as a Windows Service" utility used by tens of thousands of savvy computer administrators across the globe.
This release delivers a few major enhancements:
File synchronization fixes for Dropbox 105+ running as a service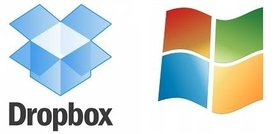 Dropbox threw us a curve-ball in September. With the advent of version 105, Dropbox suddenly stopped synchronizing files to the cloud when it was running as a service in Session 0.
This issue affected many of our customers, and as the Dropbox automatic updates started rolling out, the emails and complaints started coming in!
After a few days of frantic experimentation, our developers arrived at an effective and simple solution. Apparently setting the QT_OPENGL system variable to software restores all functionality. Dropbox copies files again.
We decided to incorporate the fix into AlwaysUp, to save new Dropbox customers from having to manually set QT_OPENGL. AlwaysUp Version 12.5 and later will automatically set the QT_OPENGL environment variable so that you don't have to.
One word of caution: If it turns out that setting the QT_OPENGL variable causes problems in a future version of Dropbox, you can neutralize the fix through another environment variable. Set the ALWAYSUP_NO_DROPBOX_OPENGL_FIX system variable to any value and AlwaysUp will not alter the QT_OPENGL value.
Emails include recent service/application activity
Customers who have configured email alerts will notice that messages now contain the service's last five events from the Windows Event Logs. The idea is to provide helpful context when something unusual happens, to avoid you having to log on and interrogate the event logs yourself.
Here is an email showing the new Recent Activity section: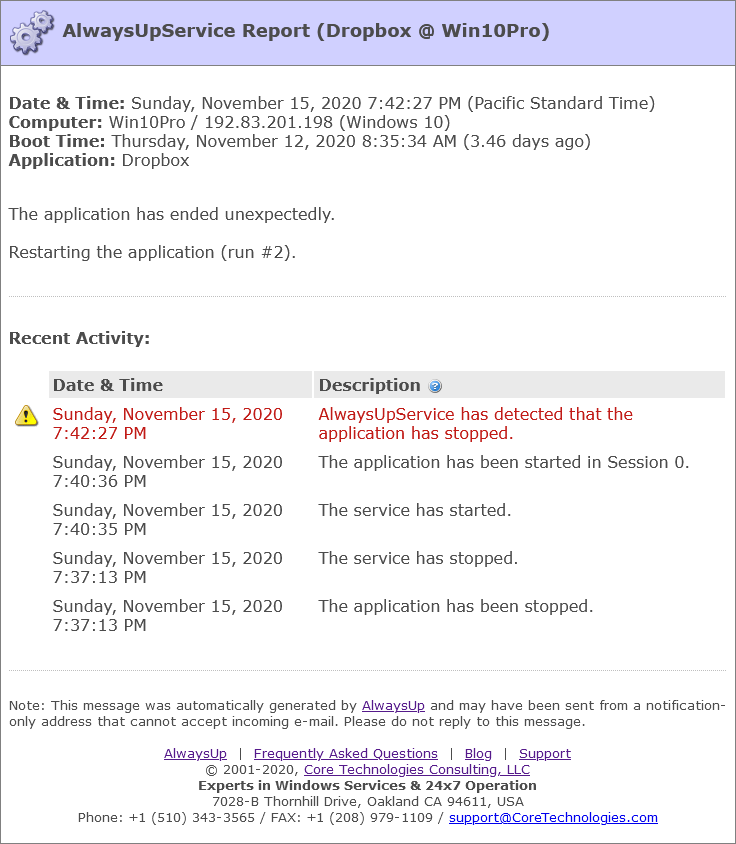 Specify when Windows launches "Automatic (Delayed Start)" services
By default, services with startup type set to Automatic (Delayed Start) start 120 seconds after the last automatic service is launched.
That two minute gap is fine for most, but what if your server is blazing fast? In that case, one minute may be better.
Or worse, suppose your legacy server is painfully slow to boot? A five minute delay may be more appropriate there.
Fortunately you can adjust the delay in the registry. And now you can do the same in AlwaysUp too!
Simply select Set Auto Start Delay from the Tools menu to bring up the new feature. Set an appropriate delay value and click OK to save: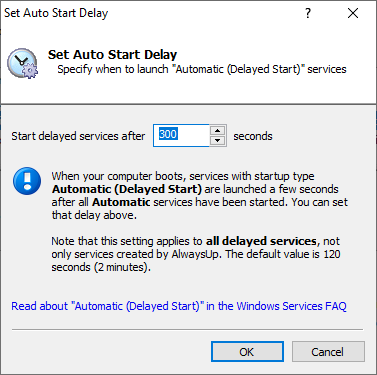 As noted in the window, the setting applies to all services set to Automatic (Delayed Start). It's not just for services created by AlwaysUp.
Full compatibility with Windows 10 20H2
Microsoft published Windows 10, version 20H2 in October 2020.
Looking at the release notes, 20H2 doesn't include significant changes to the Windows Services infrastructure. The update focused mostly on end-user improvements for the Edge browser, task tray notifications and the like.
Nevertheless, our team tested AlwaysUp 12.5 extensively on the new version of Windows 10. We're pleased to report that no problems were detected and AlwaysUp remains fully compatible with all versions of Windows 10.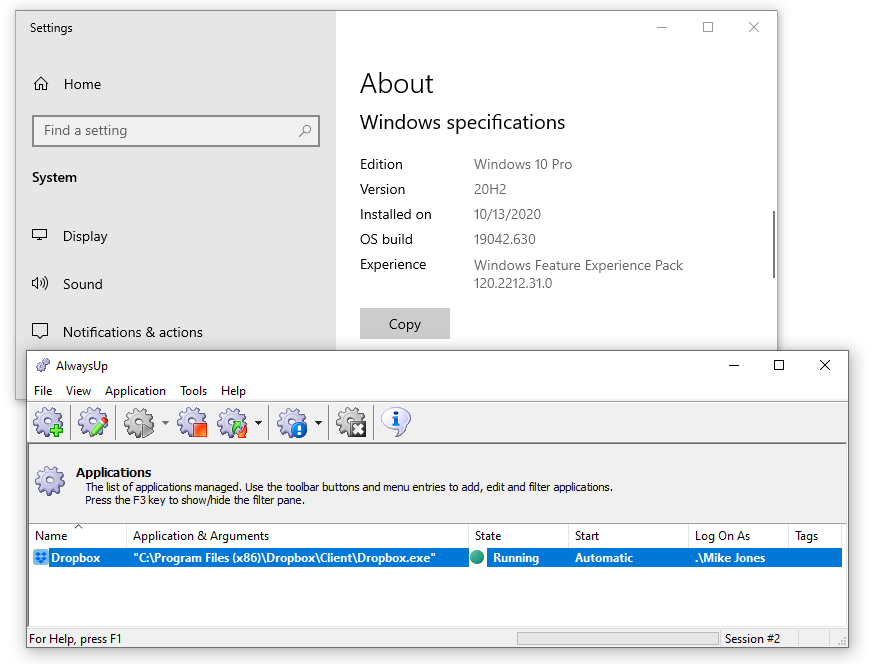 As usual, please review the release notes for the full list of features, fixes and improvements included in AlwaysUp 12.5.
Upgrading to AlwaysUp 12.5
If you purchased AlwaysUp version 11 (after June 2018), you can upgrade to version 12.5 for free. Simply download and install "over the top" to preserve your existing applications and all settings. Your registration code will continue to work as well.
If you bought AlwaysUp version 10 or earlier (before June 2018), you will need to upgrade to use version 12.5. Please purchase upgrades here — at a 50% discount.
See the full upgrade policy for additional details.
Enjoy!