The latest version of Service Protector, our set-it-and-forget it application that keeps your important Windows Services running 24/7, is now available for download. It is a free upgrade for customers who purchased version 3 (November 2011 – March 2013) while version 1 and 2 users can upgrade at 50% of the regular price.
Key changes include:
Support for multiple scheduled stops
Instead of restarting your service once per day, you can now restart it as often as you like. Specify the times at the bottom of the Monitor tab: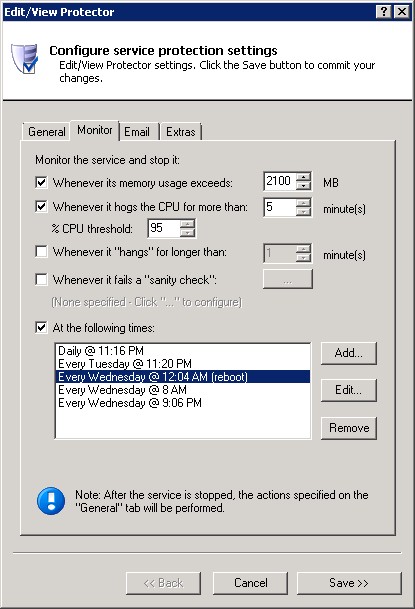 Complex services now have more time to stop gracefully
Previous versions of Service Protector wait about 30 seconds for a service to stop gracefully before resorting to more (gasp) harsh methods. While that duration worked for most services, some (like Microsoft Exchange) need more time. We ended up making the wait time configurable, defaulting to a conservative 1 minute. The Extras tab houses the new setting: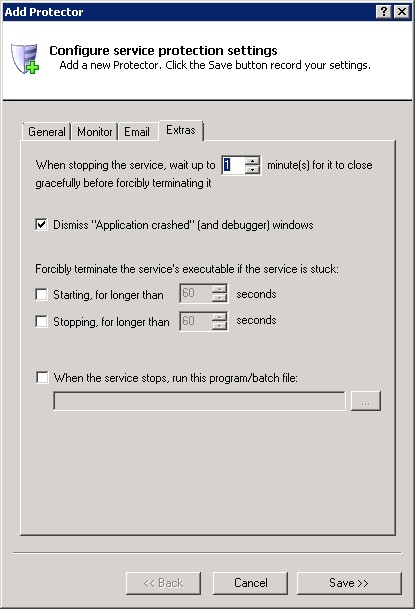 Improved handling of rogue services
A couple of our customers reported a scenario where their service was in the stopped state but the underlying executable was stuck in memory, thus preventing a clean restart.
This new version includes code to detect and resolve those insidious failures.
Several bug fixes & minor enhancements
For example, licensing on virtual machines has been improved and a bug when registering on machines without a C drive has been resolved.
The Service Protector Version History page documents the full list of changes.
Enjoy! And as always, feedback is appreciated.