What is the DcomLaunch (DCOM Server Process Launcher) service?
The DcomLaunch service implements Microsoft's Component Object Model (COM) and Distributed Component Object Model (DCOM) technologies, which facilitate communication between applications and communication between computers, respectively.
The service's display name is DCOM Server Process Launcher and it runs inside the service host process, svchost.exe: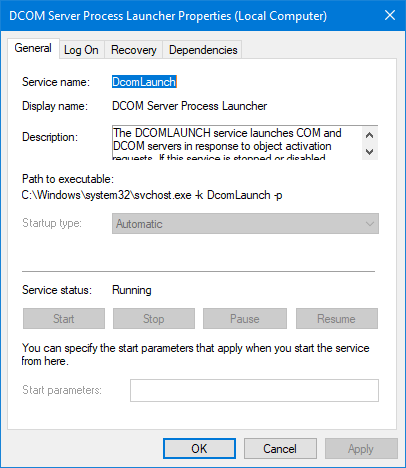 What happens if I stop the DcomLaunch service?
Many Windows applications rely on COM and DCOM. If the service is stopped, those applications will no longer work.
And, as you can see from the service's Dependencies tab on Windows Server 2019, several important services depend on DCOM Server Process Launcher too: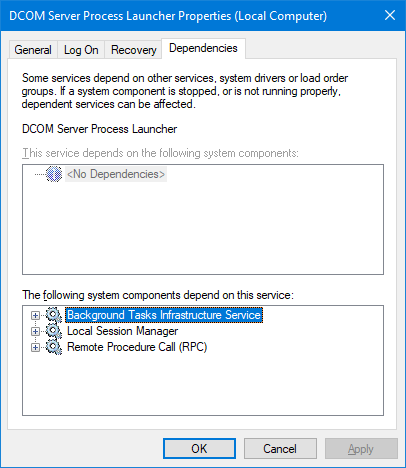 So if DcomLaunch is stopped, these services will not be able to start:
Background Tasks Infrastructure Service / BrokerInfrastructure: Responsible for background tasks.

Local Session Manager / LSM: Manages local user sessions

Remote Procedure Call (RPC) / RpcSs: Controls COM and DCOM servers. We'll dig into this critical component in a future article.
And if those 3 services are stopped, any service that relies on them will also fail to start.
If we walk the "dependency tree" of services, we can see that stopping DcomLaunch would lead to stopping over 60 other services — essentially crippling your computer! Because of this ripple effect, we strongly recommend that you leave DcomLaunch running.
Indeed, Microsoft agrees. Here is their recommendation for the DcomLaunch service on Windows Server 2016 (Desktop):

It is strongly recommended that you have the DCOMLAUNCH service running.
And this recommendation is backed up by the system. By default, you cannot stop the service or modify its startup type from the services control panel. Look closely at the screenshot of the service above to see that all those operations are disabled.
And if the service crashes or is terminated, you may be forced to log off: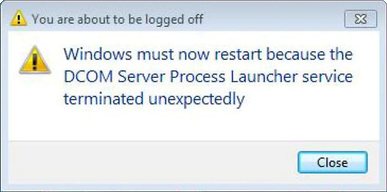 So please keep it running!
Questions? Problems?
If you would like to know more about the DCOM Server Process Launcher service, or you have a specific problem, please feel free to get in touch. We will do our best to help you!