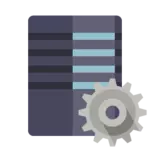 What is the LanmanServer (Server) service?
The LanmanServer service allows your computer to share files and printers with other devices on your network.
The service's display name is Server and it runs inside the service host process, svchost.exe. By default, the service is set to start automatically when your computer boots: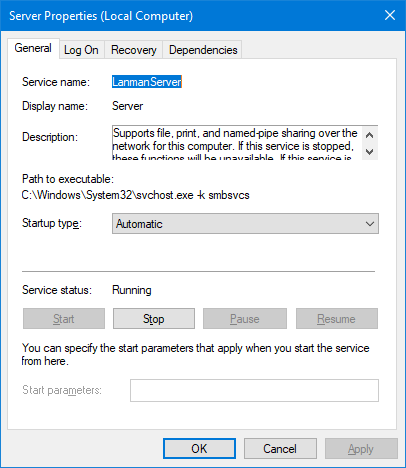 What happens if I stop the LanmanServer service?
There will be a couple of potentially significant consequences if you stop the Server service.
1. File sharing will not work
Is your computer hosting a shared folder? If so, that folder will no longer be available to network computers once you stop LanmanServer.
Mapped drives pointing to your computer's shared folders will be inaccessible and remote users will experience abrupt errors like this: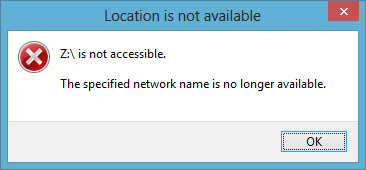 In addition, all sharing controls will disappear from your computer's File Explorer windows.
For example, the drive properties window has a Sharing tab while LanmanServer is running: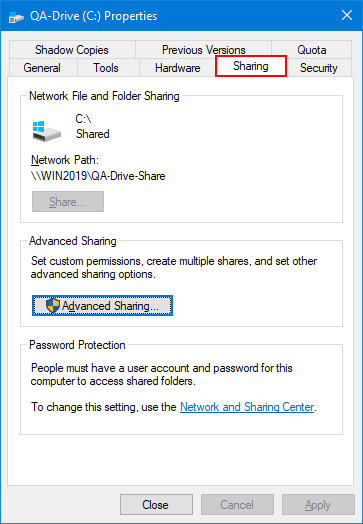 But once the service stops, the Sharing tab vanishes: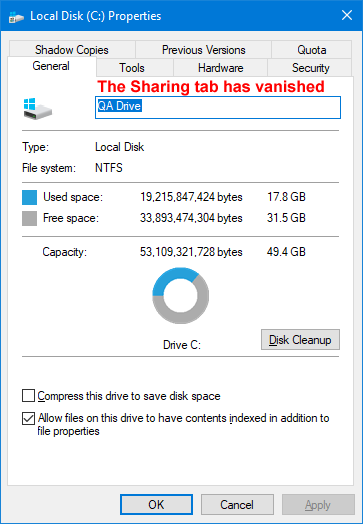 Of course, only remote users will be impacted. The underlying files and folders will still be available on the computer hosting the drive.
2. Remote printing will not work
Is your computer sharing its printer with other computers? If so, the service being down will affect folks printing from those other computers.
Specifically, Windows will tell them that the remote printer is "Offline". All their print requests will enter the print queue, patiently waiting for the printer to come back online:

Note that local printing (from the computer with the printer attached) will still work. Only remote users/computers will be affected.
Is it safe to disable LanmanServer?
Yes, it should be safe to disable the service — provided that your computer is not sharing files or printers. As mentioned above, those services won't operate without the Server service.
Note that Internet-based networking features (for example, accessing web sites from your browser) will still be available when the service is disabled. In theory, many non-networked or home computers will do just fine without LanmanServer always running.
And because LanmanServer doesn't have any dependencies, disabling it shouldn't prevent any other services from starting up: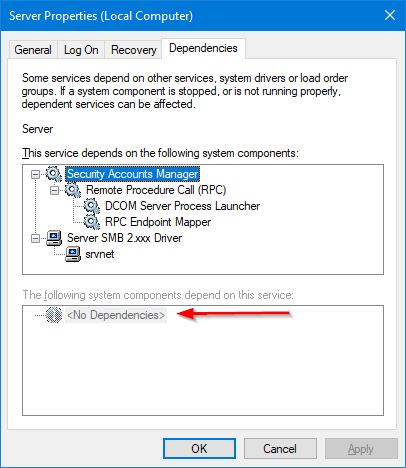 However, despite the above evidence to the contrary, Microsoft recommends keeping the Server service enabled. Unfortunately they don't provide a reason or explanation!
Please proceed with caution if you decide to disable the LanmanServer service.
Questions? Problems?
If you would like to know more about the Server service, or you have a specific problem, please feel free to get in touch. We will do our best to help you!