AlwaysUp version 13 is available for download!
To give you an idea of what to expect, here is a summary of the most impactful changes in this edition of our popular software:
The new Application Advisor will help you add a well-known application — in seconds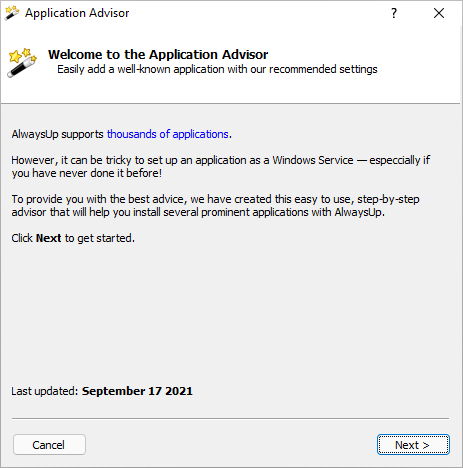 Are you looking to run a popular application — like OneDrive, Dropbox or Java — 24/7 as a Windows Service?
After years of refinement, AlwaysUp contains all the tools you need to install your application as a service. However, each application is different and it can be challenging to get all the settings right.
For example:
… and more.
In short, it's virtually impossible for an average user to figure out those quirks on their own!
And while following one of our 140+ step-by-step tutorials helps significantly, even that is not as easy as we would like.
Enter the AlwaysUp Application Advisor, our new wizard component that understands the inner workings of several popular applications. Instead of configuring your application via the generic interface (which features over 50 powerful but complex options), the Advisor interviews you to ask only what is needed. The result is a Windows Service configured with all our recommended settings, in a fraction of the time.
What applications does the Advisor support?
The Advisor can configure these 12 prominent applications:
| | |
| --- | --- |
| | Dropbox: A popular cloud storage service that lets you save files online and sync them to your devices. |
| | OneDrive: Microsoft's premier cloud storage service that allows you to sync and share files between your computers and mobile devices. |
| | Batch files: Script files containing a series of commands to be executed by the Windows command-line interpreter. |
| | InfluxDB: A robust, open-source time series database designed to handle high write and query loads. |
| | Java JAR files: Java is a popular cross-platform programming language and application environment supporting millions of devices worldwide. |
| | Kibana: An open source data visualization plugin for Elasticsearch. |
| | Node.js scripts: Node.js is a JavaScript runtime built on Google Chrome's JavaScript engine. |
| | PHP scripts: PHP is a popular general-purpose scripting language that is especially suited to web development. |
| | Plex Media Server: A global streaming media service and a client–server media player platform. |
| | Python scripts: Python is one of the world's most popular general-purpose programming languages. |
| | VMWare Workstation Player: A free desktop virtualization package. |
| | Windows Forms (WinForms) programs: WinForms is a widely-used GUI API included with Microsoft's .NET Framework. |
In future releases, our team will introduce support for other prominent applications covered in our tutorials. Moreover, please be sure to let us know of any programs that you would like the Application Advisor to support sooner rather than later.
How to install OneDrive as a Windows Service
To illustrate how easy it is to use the Application Advisor, here are the steps to add OneDrive to AlwaysUp.
Click Next to move to the application selector screen.

After gathering OneDrive information from your PC, the Advisor asks you to enter the credentials for the Windows account where you installed OneDrive. Click Next after you have supplied that information:

And on the final step with the Advisor, click Next to move past the summary screen and open the Add Application window with all the recommended settings to run OneDrive 24/7 as a Windows Service.

And finally, now that OneDrive is installed as a service, start OneDrive normally on your desktop and update its preferences as described:

Click Done to complete the process.
To find out more about the Application Advisor, please see pages 38-51 in the AlwaysUp User's Manual.
AlwaysUp is fully compatible with Windows 11

Here at Core Technologies, we've been interrogating Windows 11 for the past few months — ever since preview builds became available via the Windows Insider program.
To date, AlwaysUp 13 has performed well. We have detected zero incompatibilities. In fact, the entire stable of testing applications (including Dropbox, OneDrive and our home-grown simulators) have performed as well as they did under Windows 10.
Needless to say, we will continue to test AlwaysUp on Windows 11 to maintain 100% compatibility after Microsoft releases the full retail versions on October 5. In short, we've got your back!
Other fixes & improvements
Internal logging has been improved. Consequently, the added information should help us diagnose problems and resolve thorny issues quickly.

Customers running versions of Windows configured with the highest levels of security (e.g. Windows SHB) would occasionally run into licensing issues. Our team has resolved these problems.

"splwow64.exe" processes, which are spawned to aid in printing, are now handled and terminated properly when running in the context of a Windows Service.
As usual, please review the release notes for the full list of features, fixes and improvements included in AlwaysUp version 13.
Upgrading to AlwaysUp 13
If you purchased AlwaysUp version 12 (after March 2020), you can upgrade to version 13 for free. Simply download and install "over the top" to preserve your existing applications and all settings. Your registration code will continue to work as well.
If you bought AlwaysUp version 11 or earlier (before March 2020), you will need to upgrade to use version 13. Consequently, please purchase upgrades here — at a 50% discount.
See the complete upgrade policy for additional details.
Enjoy!