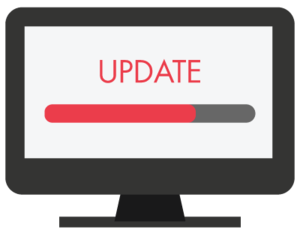 Version 6 of Service Protector — our professional utility that babysits any Windows Service — was released a few days ago. Here is a quick look at what's new:
Easily restart service protection from the toolbar
Customers who occasionally restart protection will notice the new "Restart" icon on the toolbar: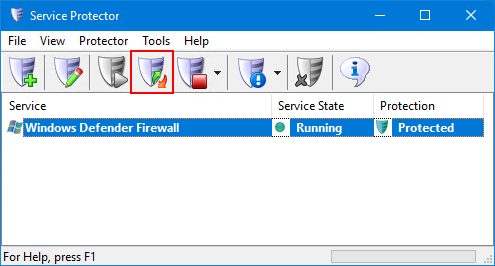 The convenient button performs the same operation as the similar entry under the "Protector" menu, but with one click instead of two.
Updates for Session 0
Unfortunately Microsoft has officially killed access to Session 0 — the isolated desktop hosting all Windows Services. You can no longer visit Session 0 from Windows Server 2019 and Windows 10 build 1803 (April 2018).
But access to Session 0 is alive and well on earlier versions of Windows. Switching to Session 0 continues to work on Windows Server 2012, 2008 and 2016 (though you can't use the keyboard and mouse in 2016).
Service Protector 6 understands where Session 0 is no longer accessible and will adjust accordingly. For example, you will no longer see the "Switch to Session 0" entry under the Tools menu when running on Server 2019: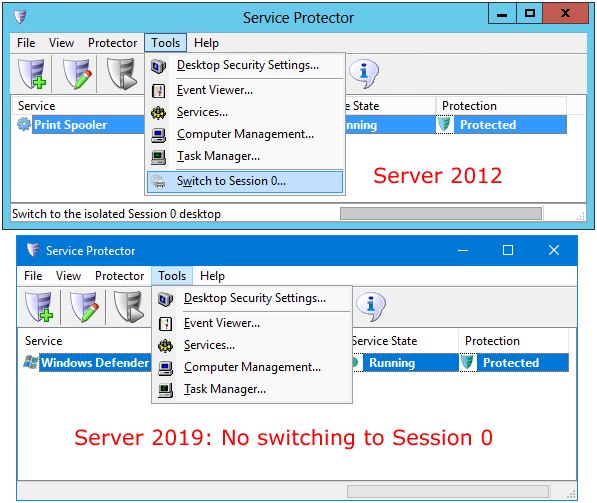 Under-the-hood tweaks for Windows Server 2019 & 2016
While recent versions of Windows have not introduced major changes to the Windows Services architecture, each release has brought its own quirks and gotchas. There has been no shortage of thorny, real-world problems for us to tackle!
The latest low-level code supporting Service Protector incorporates all our latest solutions and workarounds — to ensure smooth operation on whatever operating system you are running.
Other fixes & improvements
Service Protector regularly reads from the Windows Event Logs as it monitors each Windows Service. Those interactions now occur much faster.

The latest builds of Windows 10 are fully supported. Each major, bi-annual Windows update was thoroughly tested and no issues were found.

The registration window now displays the version number — to help customers complete registration on the correct version of the software.

The registration process provides additional labels and informative pop-up messages to help customers complete the process without incident.
As usual, please review the release notes for the full list of features, fixes and improvements included in this release.
Upgrading to Service Protector 6
If you purchased Service Protector version 5 (after April 2016) you can upgrade to version 6 for free. Simply download and install "over the top" to preserve your existing services and all settings. Your registration code will continue to work.
If you bought version 4 or earlier (before April 2016), you will need to upgrade to use version 6. Please purchase upgrades here — at a 50% discount.
See the full upgrade policy for additional details.
Enjoy!