AlwaysUp version 11.8 is out!
Here are some highlights of this new release:
Automatically restart your application every 2, 4, 6, 8 or 12 hours
Are you running a legacy application that leaks memory or other resources? Does restarting it cure all ills?
If a daily restart is not enough, you can now recycle your program more frequently — as often as every 2 hours.
The new periods are available in the Every setting on the Monitor tab. Expand the drop-down to select the desired time frame: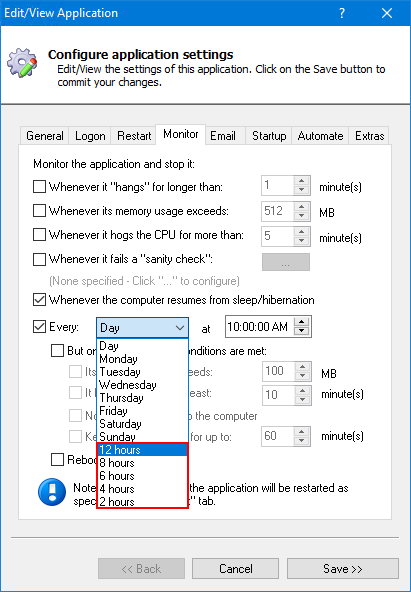 Of course, please use this new power with caution. Very few applications need to be restarted 12 times a day! Be sure to consider the impact on your customers, who may be interrupted as your software goes up and down during working hours.
View relevant file information in the "Running" tooltip
When your application is running as a Windows Service in AlwaysUp, you can click the green "Running" circle (

) to show details of the running process.
That popup now includes additional information. It highlights key "metadata" of the executable file being run:
File description: A free-form description of the file — usually the name of the product or a component (e.g. "Dropbox" or "iTunes").

File version: The version number of the file. Usually 4 digits in dotted notation (e.g. "5.45.3.1672") but can also contain a build/version identifier.

File date: The date and time when the file was last modified.

Company: The name of the company that produced the file.
Here is what the new tooltip looks like (when running Plex Media Server as a service):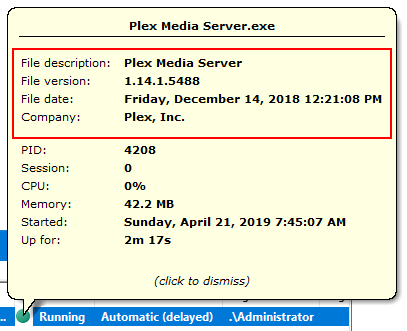 We added this information to help customers manage change. For example, if an automatic update installed new software and your setup isn't working as expected, the version number and the date will alert you that the executable file was recently updated.
By the way, you can see most of these values in the executable file's properties. In Windows File Explorer, right-click the file and select "Properties" to summon an informative popup. The metadata will be available on the "Details" tab: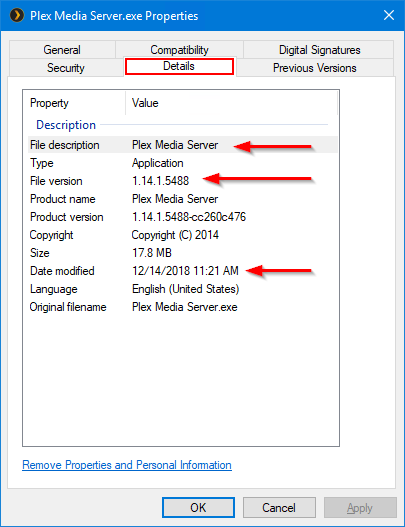 Receive email alerts whenever the service stops
AlwaysUp can be configured to send you an email alert whenever your application stops. That option is available on the Email tab.
However, prior to this version, AlwaysUp would not send a message when the application was stopped because the underlying Windows Service exited. This was fine when the service was stopped from the AlwaysUp console, but not when the service was being closed by Windows (e.g. as part of a system shutdown). The behavior has been updated and email will now always be sent.
One note from our development team though: Emailing when the system is shutting down may not be 100% reliable. At shutdown, Windows may abruptly close AlwaysUp before it has had a chance to send the email. Furthermore, some supporting systems (which have been signaled to close) may not be available to deliver an email.
Other fixes & improvements
If your application is running and you change the startup type to "Disabled", AlwaysUp will no longer stop the application. This new behavior is in line with Services.msc.

If an application/service marked as "Disabled" is running, it can now be stopped from AlwaysUp.

Command-line operations to start, stop or restart the application/service were ignoring the "silent" parameter and always showing the progress window. This has been fixed.

Microsoft Visual C++ Runtime Library errors/popups are now classified as fatal. If your application encounters one of these errors, and the "stop when the most serious are encountered" box on the Extras tab is checked, your application will be stopped and restarted as specified.

Several small under-the-hood tweaks for the March 2019 preview of Windows 10 are included in this release. (There were no significant changes to Windows Services in that iteration of the OS.)
As usual, please review the release notes for the full list of features, fixes and improvements included in this release.
Upgrading to AlwaysUp Version 11.8
If you purchased AlwaysUp version 10 (after January 2017) you can upgrade to version 11.8 at no additional charge. Simply download and install "over the top" to preserve your existing applications and all settings. Your registration code will continue to work.
If you bought AlwaysUp version 9 or earlier (before January 2017), you will need to upgrade to use version 11.8. Please purchase upgrades here — at a 50% discount.
See the full upgrade policy for additional details.
Enjoy!